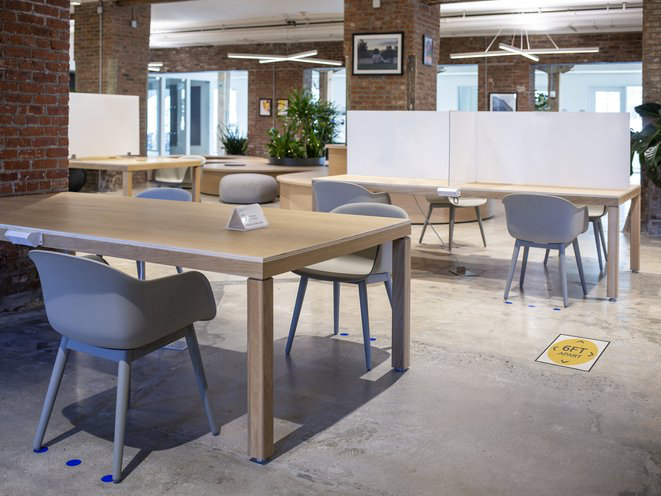 In February, Deborah Engel celebrated the fifth anniversary of Work and Play, a South Orange, New Jersey-based business that combined office coworking space with a daycare.
Her business attracted video programmers, freelancers, novelists, and tech workers who enjoyed their independence, but needed a place to work—and craved a sense of community.
And it gave Engel freedom from a hectic commute to New York City, where she worked in public relations, and a chance to work close to home with other professionals.
"I can still work and be around creative people and bounce ideas off of people and have that kind of community ... and also be able to see my child throughout the day," Engel said.
But in May, after her revenue dropped 80%, Engel was forced to permanently shut down the business. Work and Play collapsed under the same pandemic-related market forces that have emptied commercial office spaces as workers have retreated to work remotely from their own homes.

"We celebrated five years in February and we were on the cusp of expanding," Engel said last week, "and then to be like, 'Oh, my God, I'm closing this business I've spent the past eight years building.'"
Across the New York and New Jersey region, coworking businesses are trying to keep their doors open even as the spread of COVID-19 rises rapidly. The once-booming business model that was built around bringing workers together into shared spaces, with flexible office and desk lease options, has become the very antithesis of pandemic protocols.
"No one saw this coming," said Zahra Amanpour, who just closed her coworking business, Indiegrove, this summer. She opened it in 2013, and said it was Jersey City's first coworking space.
Amanpour said it was thriving and attracting finance and tech workers. "2019 was an amazing year," she said. "I threw a bunch of money into it, built out a whole floor."
But within two months of the pandemic, profits dropped 70%. She said she believes coworking will come back, once there is a vaccine, but the loss of clients made her business unsustainable.
Instant Group, a London-based firm that tracks coworking spaces, found that demand decreased after the start of the pandemic, and that the length of office rentals has also declined.
Those that are still open are trying to renovate spaces and keep areas sanitized so that their members feel safe, said Peter Bacevice, a director of research for HLW Architecture Firm in New York and a research associate with the University of Michigan Ross School of Business.
He studies coworking spaces and has found that members are drawn to that community connection.
"They're thinking about the buildings that they're in, and how people come up to the floors where they are," he said, "everything from elevator queues to air circulation flows and just making sure that ... they're doing what they can to make people feel comfortable."
Kenneth Miles co-founded 3rd Space, an office-sharing company in the heart of Downtown Newark. He recently gave a tour to Norris Allman, an entrepreneur who is looking for office space to launch his business, a company that helps seniors with household chores and light repairs.
Miles stressed the safety measures 3rd Space is taking—like requiring all members to wear masks, and to wash their hands regularly.
Allman said his wife has health issues and he didn't want to expose her to COVID-19, so he was encouraged by safety features like plexiglass dividers in the common seating areas, and hooks on the doors that allow people to open and close with their forearms—not their hands.
Miles said he's been reaching out to the owners of other coworking spaces to find out what they're doing to survive the economic fallout and loss of clients.
Many, he said, are shifting away from marketing their open seating areas, and steering members to private offices.
Seating in the common areas starts at $285 per month at Third Space. But with social distancing requirements, companies are no longer able to maximize the space. Miles said he removed 20 chairs, half of them, from the open seating area to allow for social distancing. By comparison, private offices at 3rd Space start at $1,785 per month.
Miles said the open seating areas provided a way for budding entrepreneurs who couldn't afford an office to still get into a coworking space, where they could experience the sharing of ideas and community.
He said he now fears those people will be priced out -- including many of the Black and Latino creatives in Newark.
"It speaks to entrepreneurs of color, perhaps missing out on networking with other people who are in business," he said.
Bacevice said coworking had been soaring in popularity before the pandemic, with companies like WeWork disrupting commercial real estate. But he said with remote work now occurring at home, "there's a lot of coworking space supply in the real estate market, and now that demand has essentially evaporated overnight."
Many coworking spaces operate like gyms, with members paying a monthly fee in exchange for a place to work or hold a meeting. Work and Play's $75 flex plan bought members 15 hours of desk time—using "hot desks," aka any open desks— over three months. Or, they could rent a dedicated desk for $375 per month.
After becoming popular with filmmakers, novelists, and other creative freelancers seeking a place outside of home to work, Engel had expanded to another location in town, and was scouting new sites in Bloomfield and other parts of North Jersey.
In the end, Engel said, her model couldn't work under the new rules of the pandemic.
"Most of our members use hot desks and people are constantly coming and going. And also we didn't have that much real estate, so people were sitting close together," she said. With the virus, she had to take into account how many people could actually work safely at one time and the cleaning needed between visits.
Engel had the added burden of trying to meet regulations for her daycare. The state required daycares to keep cohorts of children together, but her model was built around flexible schedules.
"We weren't like a traditional daycare center where our clients are coming Monday through Friday," she said.
The daycare has closed for good, but Engel continues to rent offices to a handful of remaining members.
Rebecca Horan is a brand strategy consultant who was a member at Work and Play. She would go with her 2-year-old, Monday through Thursday, for three hours.
"I'd bring her into the child care room downstairs, and then I would go upstairs. And it was so nice feeling -- like I had an office to go to and a workplace to go to," Horan said.
"As much as I loved working for myself and by myself, I really liked the camaraderie ... I had this place where I could just go in and get my coffee and I'd go settle in at a desk, and I got to know people over the years."
Horan has settled back into working at home, but she's hoping that some day in the future, Work and Play will be back.
"I would really like to think, down the road, when the dust settles from all of this, that I can go back."
https://gothamist.com/news/nj-coworking-spaces-struggle-survive-during-pandemic